Good Morning Anglers
We are less than one month away from our second tournament of this years trail of 4 kayak tourneys on June 9th at the King Harbor Yacht Club.
If you or any of your friends would like to participate please have them register at the iAngler site or go to
www.battleofthebays.com
and they can click on the Santa Monica Bay event to register. The fee is $60 once again and this is a fundraiser for the CCA CAL... this year you can pay with PayPal for the Big Fish side pot and the Mity Might contest....the rockfish division is free although you must use an AHI Live Deception or Assault Jig, or a Squish Rockfish Rig to win the AHI Jig Selection.
You can look at the rules and prizes on the webpage to see what this years prizes are looking like.
Andy and OEX Sunset Beach are our Hobie Sponsors for the King Harbor event...
We have a HOBIE Mirage Drive Pro Angler 12 as the top prize for the longest bag of three bass at the end of the trail.
www.battleofthebays.com
We'll have lunch served by the King Harbor Yacht club again with beer and soft drinks included and we'll have another great raffle again. Primetime Seafood is donating fish again and I'm working with the chef to come up with something delicious and different this year.
To help me with the food service estimates and the tourney finances and paperwork it would really help if you or your friends didn't wait until the last moment to register...PLEASE...!

Also...this is another CPR tournament so you must use a smart phone or digital camera and a hawg trough to photograph your fish and submit to the iAngler app. It's sounds easier than it is...so my best advise is to practice and submit photos before the tournaments. Once you have registered you can submit all the photos you want. Please don't wait until the morning of the event or the night before as you'll be pretty flustered and frustrated if the app doesn't work as you expected. If you have any questions please contact me...
We'll be having a Captain's Meeting at Island Tackle in Carson on Sunday June 3rd the week before our event. Chad Gerlich from Hookup Baits will be our guest speaker and the meeting starts at 10am. Island Tackle is at 21809 Avalon Blvd. Carson CA. 90745 Phone - 310-707-1205
I'll be sending out some tips and info as we get closer to the event to all the registered anglers...and remember...the All Expense Paid 4 day Cedros Kayak Fishing adventure is a drawing for all registered anglers. You don't even have to catch a fish to win this $2000 trip to Cedros Island in Mexico... it is open to all our anglers.
For those of you that have competed before and used the app...GOOD LUCK...!
The SM Bay is full of Red Crab, so my advise is to pre-fish and have a few selected spots that you can go to as the different sides of the canyon or the artificial reefs may not bite as you expect on tourney day...I hit 4 spots yesterday before I could find some hungry fish.
Squid and Sardines were working yesterday and Larry and Mike feel confident that they'll have bait available at the receiver on the 9th. Mike has completely re-done the bait receivers and is ready to go...I'll try and make sure that he'll have some frozen squid out at the receiver to save you some time. I'll send an email out to the participants with the prices for the squid and live bait availability before the event. There are some nice big rockfish and bass being caught on the structure spots (bass to 20+") so this tourney should have lots of fish if the weather Gods smile on us...
There is plenty of parking at the yacht club and we can accommodate small kayak trailers too.
If you know someone that want to compete but needs a kayak...Andy Allen at OEX can bring some rentals up to the event. Please check with Andy if you or a friend needs a kayak...562-592-0800.

Thanks Andy

I'm looking Forward to seeing all of you on June 9th and June 3rd.
Jim Salazar Battle of the Bays Tournament Director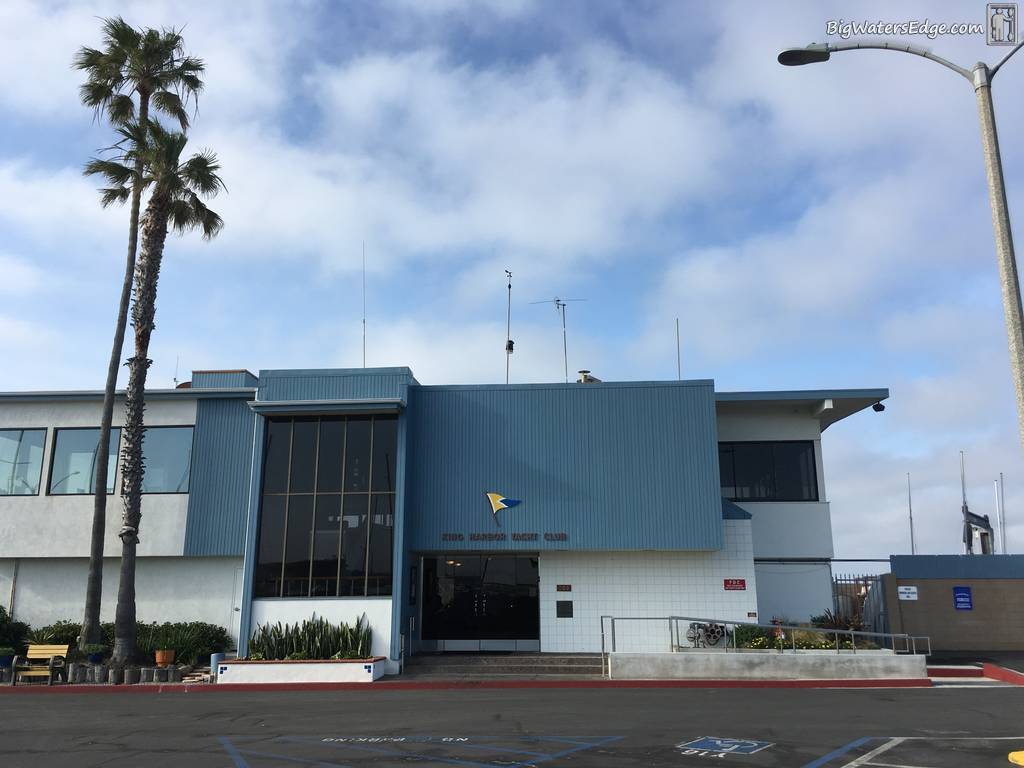 It's a super easy dock launch with a wide ramp for access...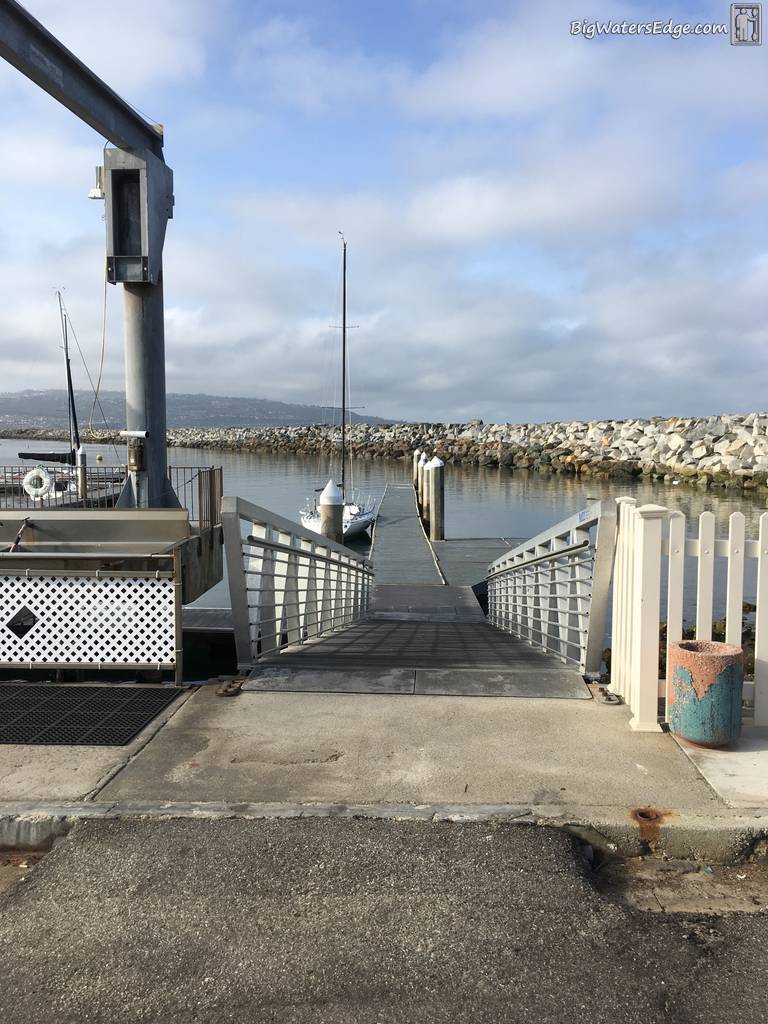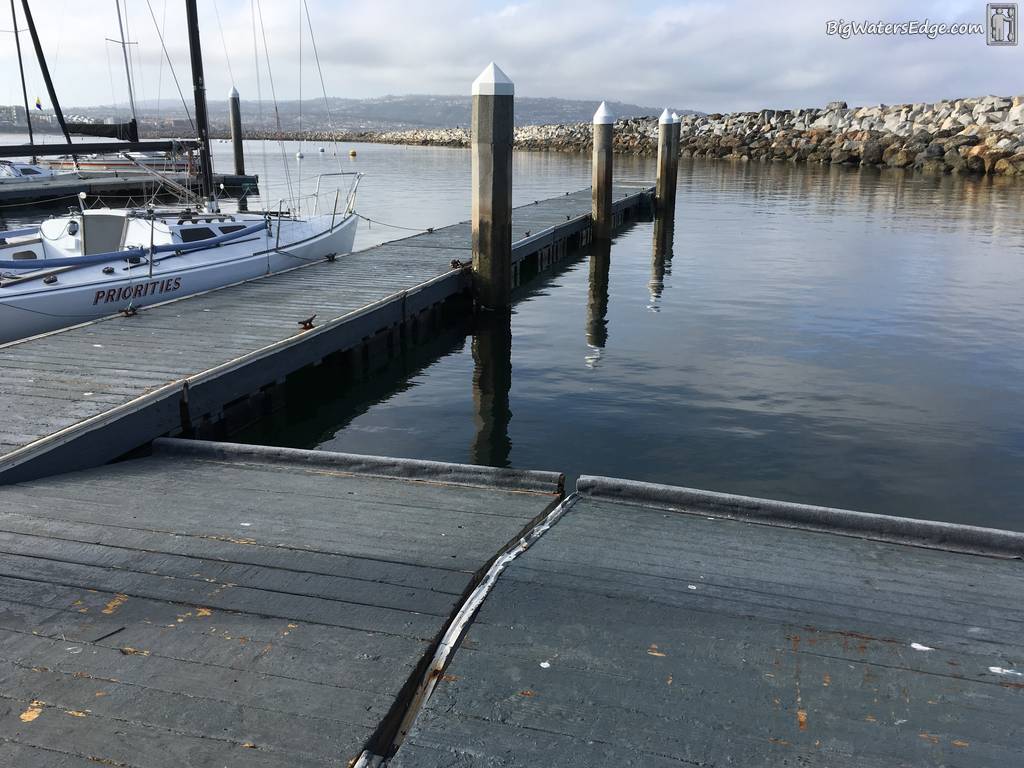 If you choose to fish outside in the Bay...it's a quick 10min peddle to the mouth of the harbor from the north end where the yacht club is.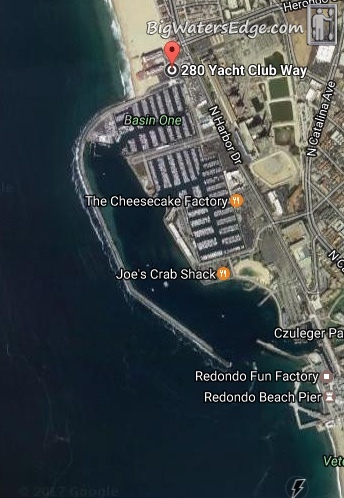 There is a wide variety of structure and artificial reefs available within 1 to 4 miles of the harbor...as you can see from this view of the Redondo underwater canyon...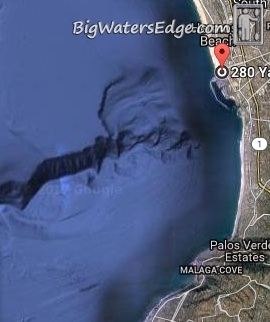 The two shaded areas are the "Harbor Patrol legal" areas to fish inside the harbor...If you desire, you can launch your kayak at the "hand launch" (there is a $2/hr. rate) at the public parking lot. The King Harbor Yacht Club parking is free.